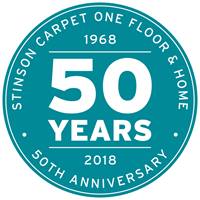 There's a saying about the flooring industry that once you get sucked into it, there's no getting out of it. This couldn't be truer for the Stinson family. From the humble beginnings as "Stinson Carpets," the family has served Central Florida's flooring needs. Over time the industry has changed as much as the products it offers – from multiple manufacturers to a few large players, and from carpet, sheet vinyl, and hardwood to luxury vinyl plank and waterproof hardwood as examples.
Founder Al Stinson settled in Orlando from West Virginia and set out a family business in 1968 employing his father, brother, and son, Mark, who when old enough and with much experience under his belt, eventually bought the company in 1996. Though still a family-owned business, the company joined the "Carpet One" co-op in 1996, and in 2019 also became partners in a new venture, FS Florida, LLC. A partnership between two reputable dealers: Florida-based Stinson and Texas-based Flooring Services, FS Florida, LLC has its Carpet One retail showroom located in Orlando, Florida. The tenured staff seeks excellence in each customer experience, from pricing and installation to service and product performance. Integrity, knowledge, and customer care set Stinson Carpet One apart. Superior warranties and extended financing also provide peace of mind and affordability. Installing in six Central Florida counties, you can count on Stinson Carpet One to FLOOR YOU.
Ready to get started on your flooring journey? Contact Stinson Carpet One Floor & Home today for a FREE estimate, or visit our showroom in Orlando, Florida.
Our Testimonials
Whole House Carpet Install
"Stinson Carpet One did my carpeting in my living room and the entire house. They were excellent. The came out, they had the samples that I needed and I had like a 3-day window to move in and they actually went through a lot of trouble to order the carpet, get it there overnight so they can have it here and they installed it the day before I moved in. They were very professional from the time I spoke to the owner to the time they came out here, they had samples with them and they were prepared, organized, very thorough with their questions, they took their measurements the same day and they did a marvelous job for me. They had a 2-day window to order the carpet and get it there within a day and then come the next day. They carpeted the entire house, it's not a one or two-room job and they actually did the carpeting in one day too and they cleaned up very quickly. After they cleaned up, they rolled up the extra carpet and asked me where I wanted it and then they placed it in the garage for me.
They were very nice and very good. Home Depot charge more than them. They had to go through a lot of trouble to get the carpet that I needed because it wasn't just a regular cheap carpet and like I said I needed 3 different colors and special padding that I wanted, they had to get that too. Everything from the meeting on through the sample that they had, on through the service that they provided, in getting the carpet in that I needed, and also installing was absolutely excellent. They were courteous, nothing was broken, they were careful with my furniture like it was their own. The owner also called during the time they were here to see if I was satisfied if everything was working out okay. I would use them again and I would recommend them highly." -T. Villa
A Joy to Work With
"The Stinson team did a great job! Everyone was always on time, worked hard and kept things as neat as possible. The workmanship was fabulous! We were kept well informed throughout the job. Everyone was polite and such a joy to work with!" -Mike P.
Great to Deal With
"Over the past 10 years since I purchased my home, I have had various rooms carpeted by Stinson Carpet One. They came highly recommended by a friend and I have to say they have been great to deal with. They are courteous, prompt and do the installation when they say they will. Their personnel are very kind and I have always enjoyed dealing with them both in their store and in my home. I highly recommend them to anyone who wants a job done right the first time." -Susan B.
Hardwood Installation
"Overall I give Stinson an unqualified "A". This was a very large amount of wood for us, and we needed it to be perfect. We're pretty certain that it is. We had Stinson come in even before we began the wood flooring installation, when we discovered a hugely uneven floor in our kitchen. The installer spent a day applying (very expensive) level, which allowed my cabinet installer to do his part. The installer worked alone and was exacting. The floor went in over a 2 week period, which was longer than anyone had anticipated, due partially to the extra floor leveling needed. The results were spectacular.
Our home now looks just the way we wanted it to, and we are thankful we went with Stinson for the installation, with all the trouble we had. I had less expensive quotes from other companies and one-man shops, but I can't imagine where we'd be today if I'd decided to go with one of them instead. A top-notch job from start to finish, even if that finish kept moving! I would recommend Stinson whole-heartedly for any flooring installation." -Erica H