Your Local Flooring Store in Orlando, Florida
For over 50 years, Stinson Carpet One Floor & Home has been the region's leading destination for the finest in flooring products and services. As your trusted friends and neighbors, we've made it our life's mission to care for each and every customer that walks through our doors. Building relationships and holding our own as active stewards to our communities is a huge part of what we do, proving that the benefits of shopping local are many.
Family owned-and-operated since 1968, Stinson Carpet One Floor & Home has steadily grown since its inception, with the second generation of the Stinson family at its helm today. While there are many big box stores, shopping at Stinson Carpet One is a unique and special experience that revolves around making lasting connections. In fact, a large portion of our client base consists of repeat customers, spanning several decades. For us, the ultimate goal is to let our ever-evolving network of repeated and referred customers serve as an ongoing testament to our services.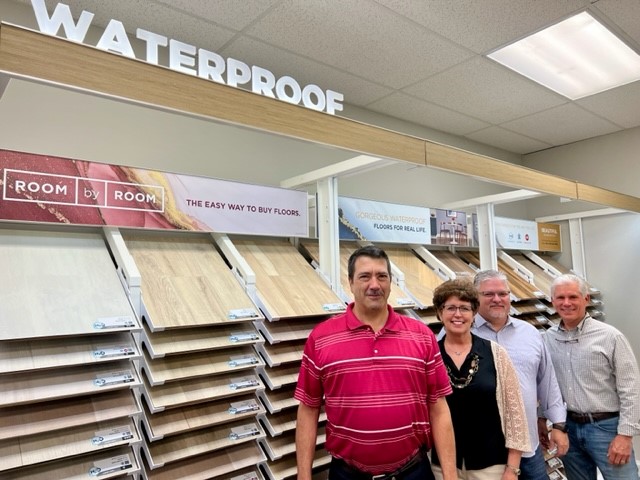 Why Shop Local?
For starters, our installation services are unparalleled, with our current crew members having been part of the Stinson Carpet One family for over 20 years. Our customers can attest to our timeliness and responsiveness: you can always count on us to deliver on your terms, within your timeframe and design specifications. The Stinson Carpet One team vows to always put you, the customer, first, with each of us playing a vital role in seeing projects through, regardless of size or scope. Our promise: to take you from inspiration all the way through installation.
When we're not hard at work making your décor dreams a reality, you'll find us in your communities, making a difference and helping our neighbors with various causes and charitable initiatives. Experience the Stinson Carpet One difference - visit our showroom, located at 9901 Satellite Boulevard, Orlando, FL 32837 today!
Brands we carry:
Areas Served
Orlando, FL | Windermere, FL | Kissimmee, FL | Doctor Phillips, FL | Conway, FL | Hunter's Creek, FL | Belle Isle, FL | St. Cloud, FL | Williamsburg, FL | Holden Heights, FL | Pine Castle, FL | Edgewood, FL | Bay Hill, FL | Gotha, FL | Lake Butler, FL | Orlo Vista, FL | Oak Ridge, FL | AND MORE!